Mammography and Breast Imaging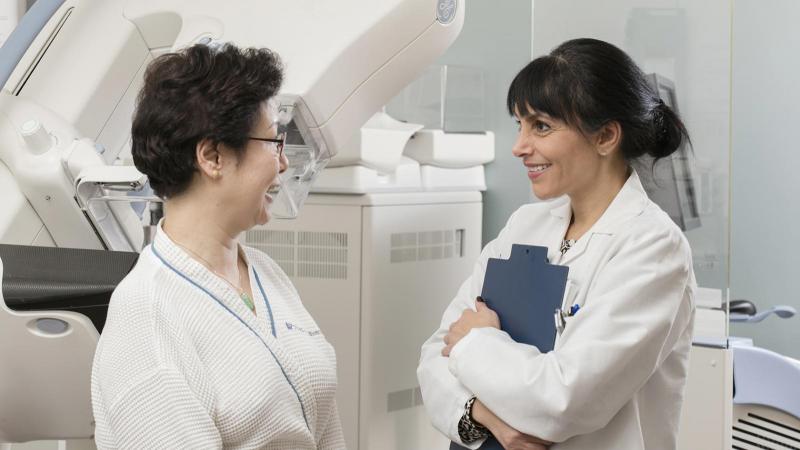 More than 300,000 women are diagnosed with breast cancer every year in the United States. Early and accurate detection plays a critical role in fighting this disease.
Columbia Radiology's breast imaging specialists are committed to providing women with the highest quality screening and diagnostic breast care in a relaxed and comfortable setting. We perform and interpret more than 40,000 breast examinations and procedures every year, using the most advanced imaging technologies available today, including 3D tomosynthesis, contrast-enhanced mammography, breast ultrasound, and MRI.
Who Should Be Screened For Breast Cancer?
"Screening" refers to performing exams on patients who don't have symptoms to allow detection of breast cancer at an early stage. We recommend annual screening mammograms for women age 40 and older, and often at a younger age for women who have an increased risk for the disease. Screening exams may also include breast ultrasound or MRI, depending on your risk factors.
Speak with your doctor to learn how often you should be screened and when you should begin.
Expert Diagnostic Services
If you have symptoms that might be due to breast cancer—such as a breast lump, dense breast tissue, nipple discharge, breast pain, or an abnormal screening mammogram—additional diagnostic testing may be recommended. The tools we may use to evaluate such abnormalities include mammography, ultrasound, MRI and minimally invasive needle biopsies.
Before you leave the center, we will provide you the results of your imaging study. If we feel that the area of concern needs further evaluation, we will discuss the next steps in the diagnostic process with you and schedule you quickly for further testing, sometimes on the same day.
We also provide second opinions for women who have been screened elsewhere, as well as  counseling of women who are high-risk—including those previously diagnosed with breast cancer and those who have genetic mutations (BRCA1 and BRCA2) that place them in a high-risk category.