Interventional Radiology Independent Residency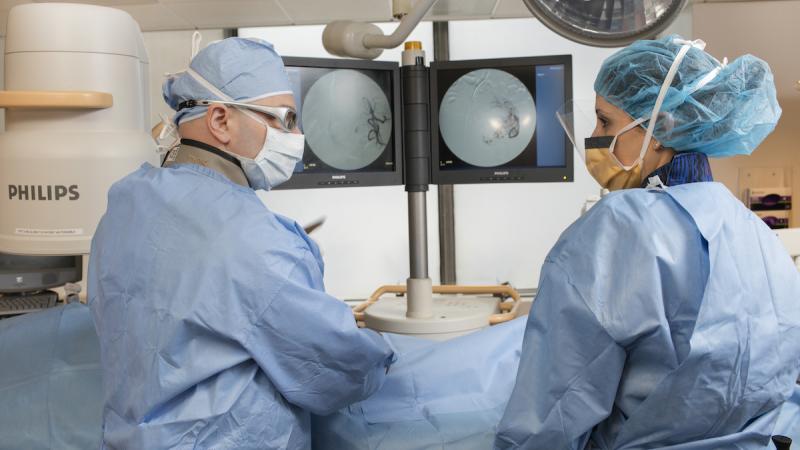 The Interventional Radiology (IR) Independent Residency offers one or two years of dedicated IR training following completion of a diagnostic radiology (DR) residency. DR residents who successfully complete Early Specialization in Interventional Radiology (ESIR) may enter the IR Independent Residency in the second year of the program.  All successful candidates will be selected via the NRMP Fellowship Match.
The program provides robust procedural and clinical training in interventional radiology. Faculty actively encourage and provide opportunities for basic imaging and translational research, clinical research, and outcomes research.
After completing the IR Independent Residency, graduates qualify to take the IR/DR exam that is administered by the American Board of Radiology (ABR).  The dual certification recognizes competency in both diagnostic and interventional radiology.
The NewYork-Presbyterian Hospital/Columbia University Irving Medical Center IR Independent Residency adheres to the ACGME program requirements for interventional radiology.
Facilities
The extensive educational and health care facilities of Columbia University Irving Medical Center, including NewYork-Presbyterian Hospital, Morgan Stanley Children's Hospital, and ColumbiaDoctors/NewYork-Presbyterian Imaging outpatient office at 51st Street, provide the resources for our wide variety of training programs in radiology. Each facility has a full-service, state-of-the-art radiology department featuring advanced interventional radiology, nuclear medicine, ultrasound, CT, and MRI facilities. Residents have access to a broad spectrum of diseases and a diverse patient population.
Conferences
Interventional radiology conferences are held on Monday and Friday mornings at 7:00 a.m. and include didactic lectures, journal club presentations, case conferences, and M&M conferences. The Monday conferences take advantage of the faculty from Columbia University, Cornell University, and Memorial Sloan Kettering Cancer Center. All residents attend interdisciplinary (extra-departmental) conferences, which help to ensure a continuously diverse experience, encourage reading on a wide variety of topics, and provide a rich environment for integration of knowledge and greater insight into disease management. The experience also helps the residents to understand and model the role of the interventional radiologist and diagnostic radiologist as expert consultants to other physicians and key members of multidisciplinary care teams.
Application Information
Residents enter the program following successful completion of a diagnostic radiology residency.
How to Apply
PGY-4 diagnostic radiology residents may apply to the IR Independent Residency.  Match occurs in the spring of the PGY-4 year and matriculation occurs after completion of the PGY-5 year.
The IR Independent Residency uses the Electronic Residency Application Service (ERAS) for applications. Our program is listed under NewYork-Presbyterian Hospital (Columbia campus).
The following materials should be submitted through ERAS:
Personal statement
Curriculum vitae
Three letters of recommendation
USMLE scores
Color photograph
If enrolled in ESIR please upload the following information to ERAS: a copy of your block diagram rotation schedule showing current and future IR and/or IR-related rotations, an updated procedure log, and a letter from your program director certifying enrollment in the ESIR pathway.
Questions?
Please contact:
Rion Mahabal
Administrative Coordinator
rm2800@cumc.columbia.edu
212-305-4928