Division of Neuroradiology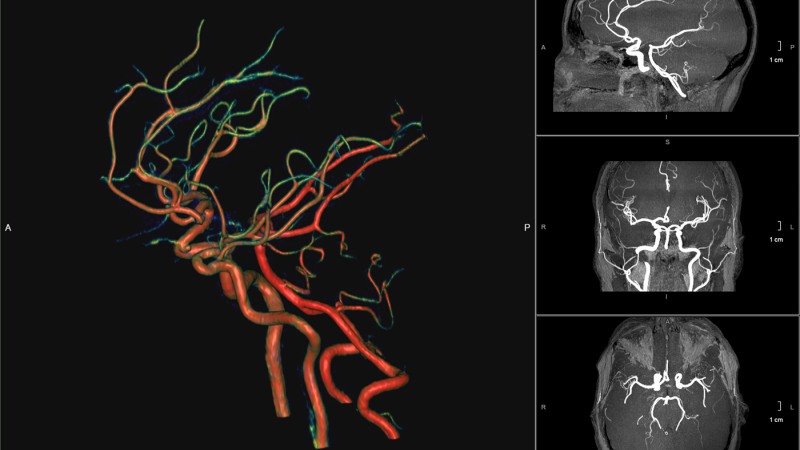 The Division of Neuroradiology at Columbia University Irving Medical Center (CUIMC) is comprised of experienced faculty members and three fellows who specialize in interpreting images from various modalities of the brain, spine, head, and neck, as well as performing various interventional procedures.
Services
The Division of Neuroradiology takes an interdisciplinary approach to reviewing studies, working closely with faculty from neuro-oncolongy, neurosurgery, pediatric neurology, and head and neck diseases.
Our facilities at CUIMC include:
Nine multidetector CT scanners (16-320 channels)
12 MR scanners (three 3T and nine 1.5 T), including a dedicated 3 tesla scanner for the neuro ICU
Four PET/CT, One SPECT/CT
Two biplane angiography suites dedicated for diagnostic and interventional neuroangiography and spinal procedures
3D laboratory with dedicated workstations for recons: AW, Tera Recon and Vitrea
Affiliations
NewYork-Presbyterian Hospital
The NewYork-Presbyterian Hospital system has been named a top hospital by U.S. News and World Report. NewYork-Presbyterian Hospital in Washington Heights, NYC is a 745-bed hospital with a large, active emergency department and is world renowned in several clinical disciplines.
The Department of Neurology is widely recognized as one of the top providers of neurologic services in the nation. The Neurologic Institute at NewYork-Presbyterian/Columbia was founded in 1909 and is internationally recognized as the first medical center in North America to specialize in the treatment of diseases of the nervous system. The department consists of 144 neurologists and trains 30 neurology residents, 6 pediatric neurology residents and fellows in seven separate subspecialties. The Institute treats the largest stroke caseload worldwide and is a pioneer of hypothermic arrest surgery.
The Department of Neurosurgery is a top-five ranked practice in the United States and is comprised of 21 neurosurgeons training 15 residents and one interventional neuroradiology fellow. The hospital has a dedicated 16 bed neuro ICU.
The Department of Otolaryngology is comprised of 26 faculty members training 20 residents. Major areas of focus include head and neck surgery, otology/neurotology, pediatric otolaryngology, facial plastic and reconstructive surgery, skull base surgery, vascular malformation treatment and endoscopic sinus surgery.
The Department of Ophthalmology consists of 40 full time faculty members, 69 voluntary faculty, nine residents and six fellows. Established in 1933, the Edward S. Harkness Eye Institute is a leader in ophthalmologic patient care, research, and education.
The Division of Neuropathology examines over 1700 surgical specimens annually, including biopsies for brain tumors, infecious and inflammatory diseases, nerve and muscle disorders, degenerative diseases, dementias and cerebrovascular disease. The Department of Pathology houses a brain bank containing thousands of post-mortem brain tissue samples for use during multidisciplinary conferences. Teaching conferences are held regularly and include weekly brain cuttings, monthly neurosurgical conferences and CPCs.
NewYork-Presbyterian Morgan Stanley Children's Hospital 
NewYork-Presbyterian Morgan Stanley Children's Hospital  is a 200-bed hospital specializing in a wide range of pediatric neurologic and neurosurgical disorders including pediatric brain tumors, congenital malformations, hypoxia, vascular diseases, inborn errors of metabolism, leukodystrophies, neurocutaneous disorders, developmental delay and autism, epilepsy and other seizure disorders, infection, head/spine trauma and non-accidental trauma.
Educational Opportunities
The Department of Neuroradiology emphasizes a multidisciplinary approach to training residents and fellows in order to provide the most effective and efficient means of patient care.
Residents and fellows receive strong education and training in all aspects of neuroradiology including magnetic resonance imaging, computed tomography, myelography, arteriography, biopsies and interventional neuroradiology. There are opportunities to learn advanced CNS imaging techniques such as quantitative MR spectroscopy, DSC perfusion MRI, functional MRI (fMRI) and diffusion tensor imaging.
The department accepts three neuroradiology fellows per year into a one-year ACGME accredited Neuroradiology Fellowship.
Research
Research interests are numerous and varied, ranging from the evaluation of neonatal brain myelination for better understanding of normal and abnormal development to imaging of tumors to predict tumor type and as part of clinical trials to assess therapeutic response.