Division of Interventional Radiology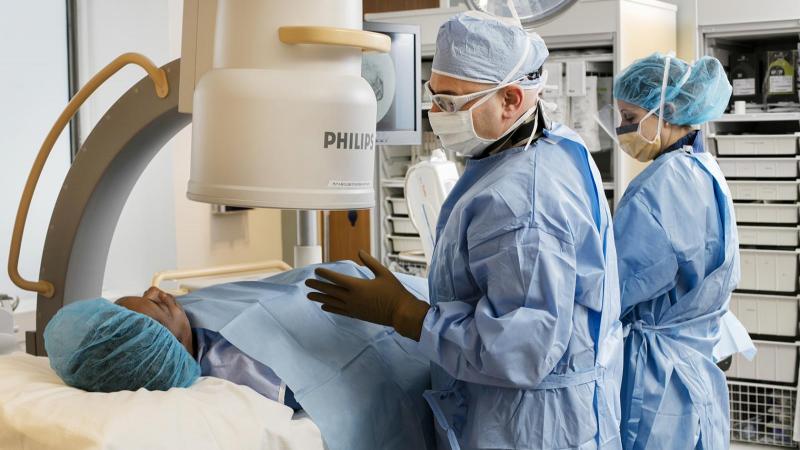 The Division of Interventional Radiology is dedicated to the development and application of imaging to guide minimally invasive techniques utilized in diagnosis and treatment of a wide variety of conditions.
Interventional radiologists specialize in minimally invasive, targeted treatments. The field has rapidly evolved from its vascular origins to include the management of "inoperable" malignancies and to provide therapeutic options to patients too debilitated to undergo more traditional surgical procedures for a range of diseases.
Procedures and Services
A wide range of vascular, gastrointestinal, and genitourinary diagnostic and interventional procedures are performed in our state-of-the-art laboratories. The division utilizes the latest imaging technology and is adept at using multimodality technology capable of performing more than one function at a time.
Our interventional radiologists support the most cutting-edge therapies offered, with particular interest in interventional oncology. Organ transplantation, thoracic surgery, and hepato-biliary surgery have developed in lockstep with image-guided techniques for the management of issues that arise during surgery. Members of this division work closely with other departments and attend to all aspects of a patient's condition while he or she is in their care. Our support staff, which includes physician assistants, helps ensure this integration.
Interventional Radiology performs an average of 6,000 cases per year at NewYork-Presbyterian Hospital's Milstein Hospital, 1,500 to 1,600 cases per year at the midtown outpatient office, and 400 to 500 cases per year at NewYork-Presbyterian Morgan Stanley Children's Hospital.
Education
The NYPH/Columbia Vascular and Interventional Radiology Fellowship has been in existence for more than 20 years and has graduated over 40 fellows. The fellowship is an ACGME approved, one-year training program. We are approved for three ACGME fellows per year.
NewYork-Presbyterian Hospital/Columbia University Irving Medical Center and NewYork-Presbyterian Morgan Stanley Children's Hospital are the training sites of the program.
Research
Members of the division conduct original clinical and pre-clinical research in state-of-the-art facilities and participate in multicenter national and international studies. Over the last several years the division has been involved in approximately 15 clinical trials. Articles describing clinical research in TIPS, high-risk chemoembolization, dialysis stent grafts, renal artery distal protection devices, biliary stricture dilations in post transplant patients, uterine fibroid embolization, and pediatric lymphoma have been published in peer-reviewed journals.
National organizations in which members are involved include the Society for Interventional Radiology, the Radiological Society of North America, and the American College of Radiology.
History
In 1959 a cardiovascular lab—forged from a multidisciplinary project that performed diagnostic peripheral, neurologic, and cardiac angiography—was established in the Department of Radiology of Columbia Presbyterian. Dr. Ira Kanter expanded the repertoire of the lab by bringing more advanced techniques and equipment from Sweden, where he had spent a year in Olle Ollsen's Department of Radiology in Lund. In 1971, under the direction of Dr. William Casarella, the cardiovascular facility was expanded to three rooms. Dr. Casarella introduced the practice of therapeutic angiographic techniques to the Columbia Presbyterian Medical Center, treating gastrointestinal hemorrhage. Dr. Eric Martin took over the division in 1982, expanding it by pioneering work in angioplasty and bringing biliary and abscess drainage to Columbia. Thrombolysis and stent placement became a mainstay of the therapeutic work performed in the division. In 1999, Dr. Ziv Haskal succeeded Dr. Martin, reflecting the expanding role of minimally invasive hepatic work performed by interventional radiologists. Dr. Haskal brought with him his expertise in the treatment of portal hypertension, primarily through the placement of transjugular intrahepatic portosystemic shunts (TIPS). In 2012, Dr. Joshua Weintraub returned to Columbia to become division director, expanding interventional oncologic treatments and the use of angiographic and image guidance in the care of cancer patients.
Today the Division of Interventional Radiology has 11 attendings, three fellows, five physician assistants, and employs 23 technologists, nurses, and aides. The division performs an average of 25 procedures a day, has five angiography suites, a dedicated interventional CT scanner, and five ultrasound machines. The division has two fully equipped outpatient facilities at 51 West 51 Street, New York, NY, and in Tarrytown, NY.