Division of Pediatric Radiology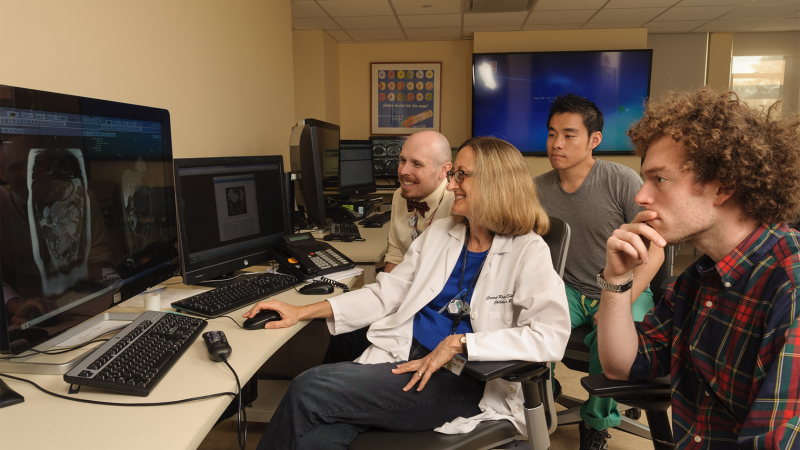 The Division of Pediatric Radiology is a strong clinical division devoted to serving the imaging needs of children and their families in a kind, caring, child-sensitive environment. We offer state-of-the-art diagnostic examinations using the newest generation of high-technology equipment, which are interpreted by dedicated pediatric radiologists. We provide outstanding diagnostic service at the lowest possible radiation exposure for each patient.
Services
The Division of Pediatric Radiology is responsible for the supervision and interpretation of imaging studies of all children in our large outpatient community, as well as inpatients at  NewYork-Presbyterian Morgan Stanley Children's Hospital, a tertiary care hospital that cares for some of the most complex patients in the country. The Division of Pediatric Radiology performs and interprets all types of radiographic images, fluoroscopic procedures, ultrasounds, CT exams, and MR imaging of pediatric patients.
Because pediatric patients are more radiosensitive, the division champions the use of the lowest dose protocols and equipment including the latest CT scanner technology and EOS scoliosis machine.
Clinical Volumes
The division performs approximately 53,000 examinations per year.
43,000 plain radiographs
11,000 ultrasound studies
1,900 fluoroscopy studies
2,250 CT scans
1,000 body and musculoskeletal MRI scans
Education
Education is a core mission. The division participates in the radiology residents' curriculum through the daily conferences, giving approximately four conferences per month. In addition, there is a daily one hour-long dedicated teaching session for students, residents, and fellows on the service. We routinely have visiting radiology residents and pediatric residents who come to experience the variety of our cases and the rich educational environment. The quality of teaching by the members of the division is consistently ranked highly by the radiology residents. In addition, Dr. Ruzal-Shapiro regularly teaches in multiple residencies in the NewYork-Presbyterian family.
Interdisciplinary Conferences
| Conference | Frequency |
| --- | --- |
| Pediatric GI Radiology rounds | 1/ week |
| Pediatric Surgery Radiology rounds | 1/week |
| Pediatric Rheumatology Radiology Rounds | 1/week |
| Pediatric GU-Nephrology Radiology Rounds | 2/month |
| Pediatric Pulmonary Radiology Rounds | 1/month |
| Pediatric Tumor Board | 1/week |
Research
Faculty is involved in varied scholarly pursuits. The chief research interests of Dr. Rama Ayyala include fetal MRI and abdominal MRI. Dr. Susie Chen's research is predominantly MRI related. Dr. Carrie Ruzal-Shapiro is chiefly interested in radiation dose reduction and MRI, most recently demonstrating how MRI can be used instead of CT to evaluate children with acute abdominal pain.
History
The Division of Pediatric Radiology was established in the 1920's by Dr. John Caffey, at what was then Babies' Hospital. Dr. Caffey was a true scholar and pioneer of pediatric radiology. His first contributions to the literature involved the skeletal system and dealt with lead poisoning, rickets, and the bony changes of hemophilia, hemolytic anemia, and syphilis. His meticulous, disciplined approach led, in 1945, to the first edition of Pediatric X-ray Diagnosis, a major step toward establishing pediatric radiology as a specialty. His description of infantile cortical hyperostoses (Caffey's disease) appeared in 1945, and his observations on the frequent presence of fractures in the long bones of infants suffering from subdural hematomas—that is, battered children—were published in 1946, both in the American Journal of Roentgenology. His recognition of child abuse (battered baby syndrome) made a lasting impact on the care of children. During the 1950s he produced a whole series of reports defining the normal radiologic appearance of various bones and establishing the normality of several findings that had previously been considered pathologic.
Dr. Caffey was succeeded by Dr. David Baker, a trained pediatrician and radiologist. He was subsequently joined by Dr. Walter Berdon. The team of Baker and Berdon was legendary. Publishing hundreds of articles, they were responsible for describing the radiologic findings of both common and esoteric diseases of childhood. Both Dr. Baker and Dr. Berdon went on to become presidents of the Society of Pediatric Radiology and of the New York Roentgen Society. When Dr. Baker became chair of the Department of Radiology at Columbia University College of Physicians and Surgeons in 1982, Dr. Berdon became division chief. Dr. Berdon won the gold medal of the Society of Pediatric Radiology in 1994 and Dr. Baker won the gold medal in 2002. In the footsteps of his predecessor, Dr. Berdon edited several editions of Caffey's textbook of pediatric radiology. Dr. Berdon served as the north American editor of Pediatric Radiology for 30 years, and the Berdon award was established in his honor to recognize the best clinical research paper submitted to the journal in the year preceding the meeting.
Leadership
Since 2004, the Division of Pediatric Radiology has been led by Dr. Carrie B. Ruzal-Shapiro, a passionate clinician-educator. Dr. Ruzal-Shapiro introduced radiology to the first, second, and third-year medical curriculum in 1993. She has precepted over 100 medical students in her fourth-year pediatric radiology elective and was elected teacher of the year by the 2004 graduating class of Columbia University's College of Physicians and Surgeons. Dr. Ruzal-Shapiro served as program director of the residency program of the Department of Radiology and currently is pediatric radiology fellowship director. In 1995­­­ she won the radiology resident's teacher of the year award. In 2014, she won the Haller Award for Teaching Excellence from the Society of Pediatric Radiology; this award is granted yearly to an individual who has demonstrated evidence of outstanding ability to educate trainees (medical student, resident, and fellow) and who has shown sustained substantial excellence in mentorship skills.