Diversity, Equity, and Inclusion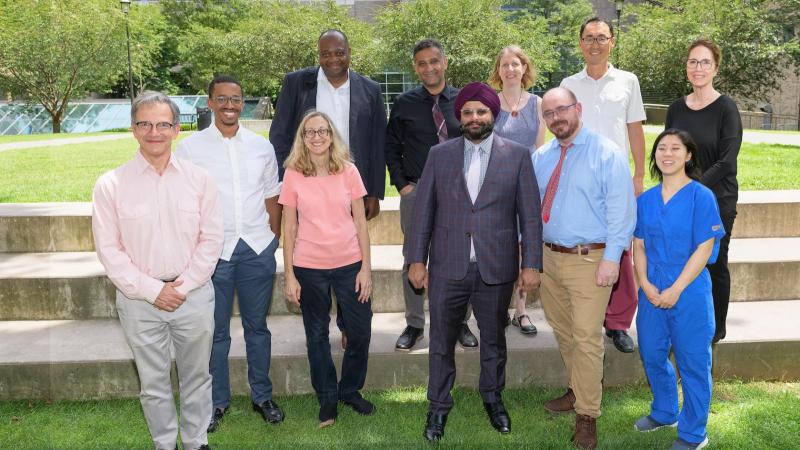 The Department of Radiology is committed to creating a diverse community of faculty, fellows, residents, and staff. We believe that bringing together people with different backgrounds, experiences, and beliefs helps us meet the challenges of healthcare and fosters new ideas and innovation. We are committed to attracting the best individuals with the brightest minds to our department by making everybody applying feel welcome.
Department Enrichment Programs
Our Women in Radiology Group welcomes faculty, fellows, and residents to regular meetings designed to expose, discuss, and help women navigate the issues particular to women in the medical field.
Our Diversity Seminars are designed to train members of the department to understand and recognize unconscious bias and become more attuned to health disparities.
Our Radiology Book Group meets three times a year to discuss books selected through a department-wide vote. All faculty, trainees, and staff are invited to participate and provided with a book. Books represent a diverse range of authors and subjects and are often selected in conjunction with a history or heritage awareness month:
Community Outreach Initiatives
A pre-medical mentorship program designed to supplement students' academic trajectory as they pursue medical school admission. GET-UPP serves undergraduate students from Columbia University, Barnard College, and the City University of New York schools. Members of our department provide advisory support, mentoring, and clinical shadowing.
SHPEP is a summer pre-medical program that exposes minority students to a mini medical school curriculum including classes and clinical shadowing experiences. Members of our department participate by allowing these students to shadow them in the hospital and at clinics.
Columbia Black Men in Medicine (CBMIM) is a group designed to maximize healthcare equity and community through the mobilization, education, and support of Black men at Columbia University Irving Medical Center. The group provides infrastructure for every Black man at Columbia to feel supported, empowered, and encouraged to succeed. Both residents and faculty in our department participate in the group.
The Asian Pacific American Medical Student Association (APAMSA) brings together Asian and non-Asian students from schools at Columbia University Irving Medical Center to celebrate Asian culture and to foster awareness of health issues in the Asian-American community. APAMSA also provides opportunities for networking, community service, and mentorship to promote cultural awareness and professional growth. Residents in our department participate in the group. (Learn more about APAMSA on Instagram and Facebook)
Our high school mentoring program invites students from a local high school to learn about healthcare professions through 40 - 50 after school hours spent in the department. Students are mentored by a wide range of radiology professionals, including faculty, residents, technologists, and clinical staff, through shadowing, interview technique instruction, volunteer work, and videos. The goal of this program is to expose students from an underserved community school to professional paths they might not otherwise be aware of.
Diversity Committee
The Diversity Committee provides support and mentorship to members of the department who come from under-represented minorities, as well as support for faculty recruitment, community outreach initiatives, and departmental initiatives.
Chair, Diversity Committee; Associate Professor of Radiology

Sheik Amin

Director, Resident and Fellow Education

Associate Professor of Radiology

Associate Professor of Radiology

Professor of Radiology at CUMC

Eleanor Kim, MD

Radiology Resident (IR/DR)

Associate Professor of Radiology

Assistant Professor of Radiology

Tina Roa, MD

Associate Professor of Radiology at CUMC

Latrisha Staples

Scott Widemon, MD