Facilities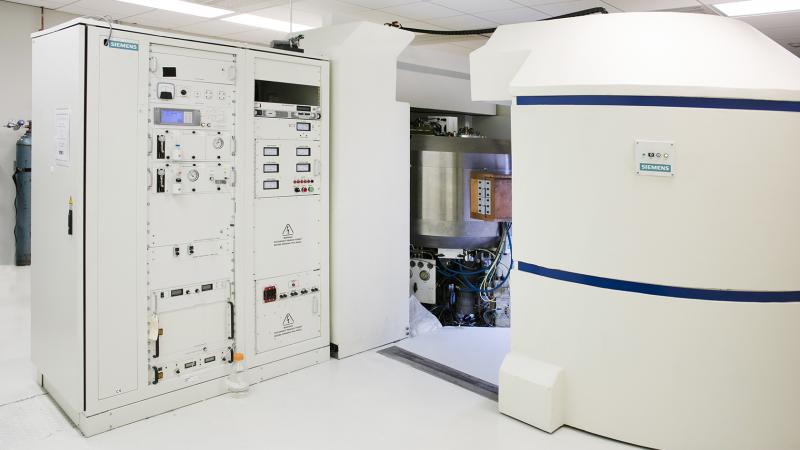 The PET Center has two 11 MeV Eclipse HP cyclotrons from Siemens Medical Systems located on the lower level. Each of the new cyclotrons has [18F]F2, [13N], [15O] targets and dual targets for [11C] and [18F]F- isotope productions.
Production Laboratory
Located on the lower level, the production laboratory is capable of producing tracers for routine and research human studies. This laboratory contains 2 hot cells and 4 minicell compartments designated for the following purposes:
Dedicated equipment, space, and FDA Approval of "ANDA" radiopharmaceuticals
[13N]-Ammonia
[18F]Fludeoxyglucose (FDG)
[18F]Sodium Fluoride (NaF)
[11C]-Choline *IN DEVELOPMENT
Dedicated equipment & space for "IND" radiopharmaceuticals
[11C]-Raclopride
[11C]-PHNO
[11C]-MDL 100907
[18F]-DTBZ F18
[11C]-6-OH-BTA-1 (aka PIB)
[11C]-CUMI-101
[11C]-DASB
[18F]-FLT
[11C]-PBR28
[11C]-ABP688
[18F]-FPEB
[18F]-THK5351
[11C]-Glutamine *IN DEVELOPMENT
The production laboratory is equipped with the following synthesis modules:
Two FXC-PRO automated modules are designed for gas phase radiochemistry and expected to produce high specific active C-11 radiotracers.
Two Bioscan coincidence modules are for cGMP production of [18F]FDG and [18F]Sodium Fluoride.
Two FASTLab 2 synthesis modules capable of multiple independent syntheses
One FASTLab synthesis module for cGMP production of [18F] THK5351
One NEPTIS synthesis module for cGMP production of [18F]FLT
The FxC-PRO modules are capable of performing radio-purification using HPLC solvents with the help of a solid phase extraction system.
Radiochemistry Laboratory
A research radiochemistry laboratory is located on first floor of the building and has 3 hotcells with Remote G Manipulators. This laboratory is used for the development of new radiotracers or validating existing tracers to establish synthetic procedures to move them to cGMP laboratory. This lab has been equipped with FXMEI, FX-FN, and CN modules.
Quality Control and Microbiology Lab spaces
There are Quality Control (QC) and Microbiology Lab spaces established for radiotracer QA/QC analyses. The QC space is well equipped with analytical HPLC quality control stations, gas chromatography for volatile organic component testing in the final product, Radio-TLC, MCA analyzer, pH meter. The three Agilent HPLC QC systems consist of one 1150 and two 1200 systems outfitted multi-wavelength UV detectors and a Flow-RAM sodium iodide radioactivity detectors. The outputs from all the detectors are processed through two independent LabLogic Laura workstations. The entire setup provides fast and reliable results of chemical, radiochemical and specific activity. The Microbiology laboratory is well equipped with a laminar clean bench for sterile inoculations, as well as incubators for sterility verification, and two Charles River's PTS pyrogen testing devices.
Metabolite Lab
Metabolite samples in sealed isolated tubes are sent back to metabolite lab adjacent to PET camera area. The metabolite lab is equipped with centrifuges, an HPLC setup incorporating both UV and LabLogic Posi-RAM radioactivity detector and automated gamma counters which allow for determinations of metabolite formation over time.
Small Animal Imaging Facility
The facility has pre-clinical capabilities operated by a qualified veterinary technician. The space is equipped with a Siemens Inveon small animal PET scanner and the installation of a Sofi PET-CT Scanner is imminent. The space also has rodent housing capabilities and a biology lab outfitted with a dissection microscope. The gamma counters also support small animal organ biodistribution analyses following dissection.