Curriculum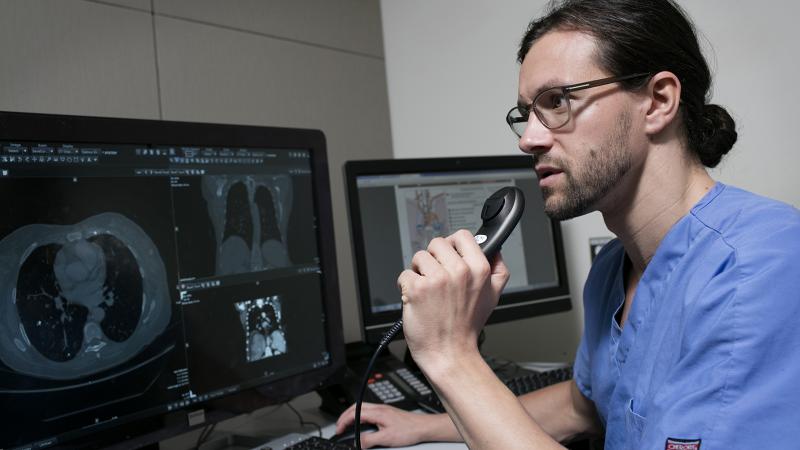 Our faculty is dedicated to providing residents and fellows with a comprehensive educational experience. Many faculty members are leaders in their specialties, as evidenced by their large body of publications and frequent presence at national and international conferences. Residents interested in a particular subspecialty have many opportunities to work closely with our faculty on a variety of research projects, with the goal of presenting at conferences and publishing.
Curriculum Overview
Transitioning from intern year to the first year of residency is a unique experience, one that can take some time to get used to. We have tailored the PGY-2 to address the challenges that face our new residents as they learn the ins and outs of diagnostic radiology. All first-year radiology resident call is on a 'buddy system' with a senior resident present. All first-year residents attend a 'Radiology Boot Camp' at the beginning of the year to familiarize themselves with workflow and the basics of image interpretation. In addition to daily conference, first-year education is supplemented by First Year Friday Reviews, which are weekly Friday morning sessions with an attending radiologist reviewing cases on a pertinent topic using the textbook Core Radiology as a guide.
PGY-3 residents take independent, overnight weekend call. Senior residents have a more advanced curriculum, including PET/CT, cardiac imaging, and MRI/vascular imaging. Research rotations are also scheduled to allow residents to continue scholarly projects, many of which have resulted in publications and presentations at national conferences.
With the ABR Core Examination now scheduled to be taken by residents at the end of the third year of radiology training, our PGY-4 schedule reflects this new timeline. All PGY-4 residents attend the American Institute for Radiologic Pathology (AIRP) four-week course in Silver Spring, MD, either in the fall (September) or late winter/early spring (February/March). PGY-4 residents also attend the Huda Physics course and have the option to attend one of several week-long radiology review courses (Duke, UCSF, UCSD) in the spring.
The PGY-5 year provides residents with an opportunity to spend more time in a discipline of their choosing via mini-fellowships and research.