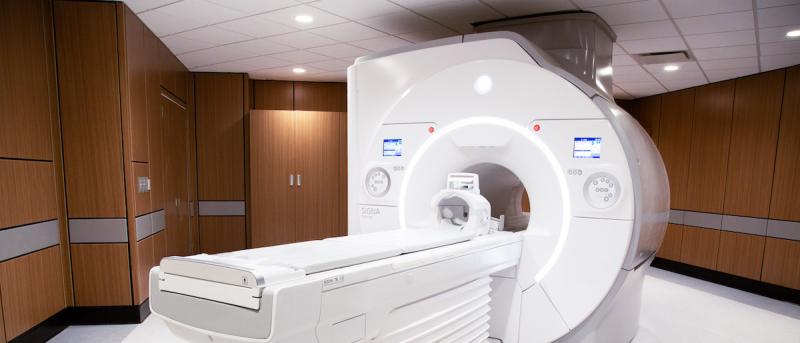 MRI Center Opens Following Year-Long Renovation
The Department of Radiology opened its newly renovated MRI Center to patients on December 24, 2019, completing phase one of a multi-year, multimillion-dollar expansion that will make the Columbia University MRI Center at the Neurological Institute one of the largest centers of its kind in the country.
Located on the basement level of the Neurological Institute in Washington Heights, the new space features four state-of-the-art GE Premier 3 tesla (3T) magnetic resonance imaging (MRI) scanners as well as an updated entrance and centralized patient reception area.
 The MRI scanners offer some of the highest resolution images available today. The higher resolution images are especially beneficial for diagnosing conditions affecting the brain, spine, and musculoskeletal system.
The improved images also come with shorter scan times and a less confined magnet bore. Patients who are young or who experience claustrophobia in small spaces, as well as bariatric patients, will especially benefit from a more comfortable MRI experience.  
The updated center accommodates 40 to 50 patients per day with any type of study—including orthopedic, prostate, pelvis, abdominal, and cardiac scans—greatly expanding the capacity of the center which was previously limited to brain and spine scans only. Improved spectroscopy, brain fiber tracking, and functional neuroimaging are also available.
All MRI Center scans are read by the Department of Radiology's subspecialized radiologists, who are nationally recognized for their expertise in the diagnosis and treatment of some of the most complex diseases and conditions.
"This new center will provide healthcare services to the community and valuable research tools to the university," said Lawrence H. Schwartz, MD, James Picker Professor of Radiology and chair of the Department of Radiology at Columbia University Irving Medical Center. "We are looking forward to bringing innovation to clinical translation and imaging science that will benefit our patients, faculty, and researchers."
Phase two of the project—due to be completed at the end of 2020—will bring the total number of MRI scanners to seven, of which one will be dedicated to research. Advances in technology over the past decades have made imaging an essential element of biomedical research, and the new center firmly establishes the Department of Radiology as a hub of research collaboration within the medical center.
The MRI Center will continue to remain open for business throughout phase two of the renovation. Regular hours are 7:00 a.m. to 7:00 p.m. weekdays, and 8:00 a.m. to 4:00 p.m. on Saturdays.