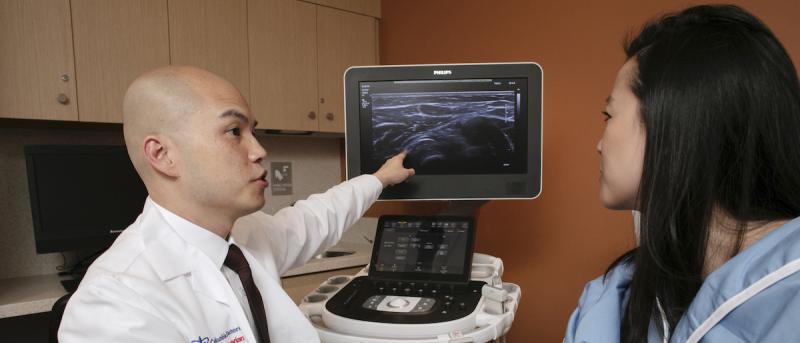 Imaging and Sports Medicine: Six Questions for MSK Radiologist Tony Wong, MD
Musculoskeletal (MSK) radiology is a rapidly evolving field which plays an increasing role in the diagnosis, monitoring, and treatment of sports injuries. With recent advances in imaging technologies, MSK radiologists are able to create and interpret detailed images of often subtle issues involving bones, muscles, joints, tendons, nerves, and other connective tissue. This superior visualisation has led to an increased importance of medical imaging in the diagnosis and treatment of sports-related injuries.
We asked Tony Wong, MD, assistant professor of radiology and chief of the Division of Musculoskeletal Radiology, a few questions about how his subspecialty intersects with sports medicine.
As a musculoskeletal radiologist in New York City, what percentage of your time would you say is spent on sports-related injuries?
We are fortunate to be able to see a wide gamut of pathology in large part because our clinical referrers at Columbia are so outstanding. Sports-related injuries can be up to 50 percent of what we do on a given day. This involves both diagnostic imaging and interventional procedures that we do.
What specific expertise does a radiologist with subspecialty training in MSK bring to sports injury diagnosis?
Subspecialty training is critical because it provides you with the skills to have a meaningful conversation with referring clinicians who deal with sports injuries. Communication and ultimately patient care are dictated by much more than what you read in a textbook. It is not enough to know radiology as a musculoskeletal radiologist. You must have some understanding of patient management and how the things you communicate affect that. This is something that is difficult to get without subspecialty training. Quite honestly, it's something that you are constantly learning even after training.
What sports injuries do you diagnose most frequently?
We see all types of sports injuries. This includes not only general things like soft tissue injuries and fractures, but also more sport specific injuries found in baseball, soccer, basketball, football, and really any other sport you can name.
When is a MSK radiologist involved in the treatment of sports injuries?
We are involved in treatment indirectly by providing a diagnosis, often times with information that allows for clinical staging of severity. This in turn dictates what type of treatment is needed — surgery vs. no surgery or even length of rehabilitation. We also do a wide range of interventional procedures including tendon and joint injections.
Describe how you work with orthopedists, surgeons, or other members of an athlete's team of providers.
We work very closely with our clinical providers. I would say there is daily communication between the radiologists in our section and referrers regarding athletes of all types, including professional and recreational.
Where is MSK radiology headed in the future and how might AI play a role in improving diagnosis or treatment?
I think in the future, MSK radiologists will provide even more value than we do today. There are some who fear the possibility of "AI replacing the radiologist", but in reality, I think AI will just augment what we do and make us more efficient and better at it. Plus, we shouldn't underestimate our ability to adapt, learn new skills, and find ways to contribute to patient care as our field inevitably evolves. Overall, I see MSK moving more towards precision medicine – moving beyond just a diagnosis into providing quantitative information that will allow for optimal individualized treatment.
For example, we are working on new imaging strategies for femoroacetabular impingement using novel MRI techniques as imaging biomarkers for cartilage damage and using AI to help convert static imaging information into dynamic models that allow for a surgical approach to be tailored to specific patients.