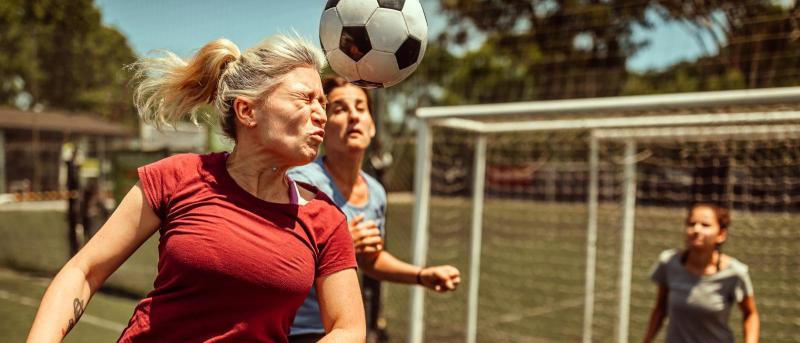 New Study to Look at Benefits of Fitness vs. Risks of Soccer Heading
With more than 250 million active players, soccer is the world's most popular sport. Among the many health benefits associated with playing the game, studies have shown that aerobic exercise changes the brain in ways that improve thinking and memory.
But a key component of soccer may counteract the game's benefits to brain health: Recent studies have shown that frequent heading of the soccer ball is associated with structural brain changes and worse cognitive performance in adult amateur soccer players.
In a new, five-year study funded by the National Institutes of Health (NIH), researchers at Columbia University Irving Medical Center will assess the competing effects of fitness and head impacts on the brain by looking at soccer players, athletes who never participated in contact sports, and nonathletes. The study will employ brain imaging, exercise testing, and cognitive testing over a two-year period for each participant.
"Soccer players and their parents have been rightly warned about the potential risks of heading in soccer, but it leads to mixed messages about the wisdom of playing the sport," said Michael L. Lipton, MD, PhD, professor of radiology, affiliate professor of biomedical engineering, and the principal investigator on the study. "This grant will allow us to determine soccer's tradeoffs with respect to brain health so that people can make informed decisions, and we can establish evidence-based guidelines for heading."
The new study builds on a more than a decade of research in which Lipton and his team found that adult amateur soccer players who head the ball more than about one thousand times in a year exhibit structural brain changes and poorer cognitive performance than those who head much less or not at all. His research has also shown that heading affects women's brains more than men's. "What we want to determine in our new study is whether soccer's benefits mitigate the adverse effects of heading for cognitive performance—and, if so, whether a threshold level of aerobic activity is required to confer protection," he said.
The study will enroll 280 participants between the ages of 18 and 30. The group will be made up of 140 soccer players with both high (70) and low (70) heading, 70 non-collision athletes, and 70 non-athletes. Participants will undergo MRI brain scans to determine their white-matter structure and will be tested to measure their aerobic capacity. They will also complete detailed surveys and testing to assess their cognitive status. Based on their results, Lipton and his colleagues will determine whether soccer's aerobic benefits counterbalance the damage sustained from heading. The researchers will also investigate whether genetic factors and sex may explain individual differences in the results.
"We hope that our findings can help people understand risks and benefits, and decide to what extent they should engage in soccer heading or in other contact sports, such as football, which have been linked to brain injury," said Lipton.
The grant, titled "Heading and Soccer: understanding cognitive risks, benefits, and the potential mediating role of white matter," was provided by the National Institute of Neurological Disorders and Stroke, part of the NIH. (R01NS123374)
References
More Information
To inquire about study participation, please email the New York Fitness Cohort at NYFC@cumc.columbia.edu.