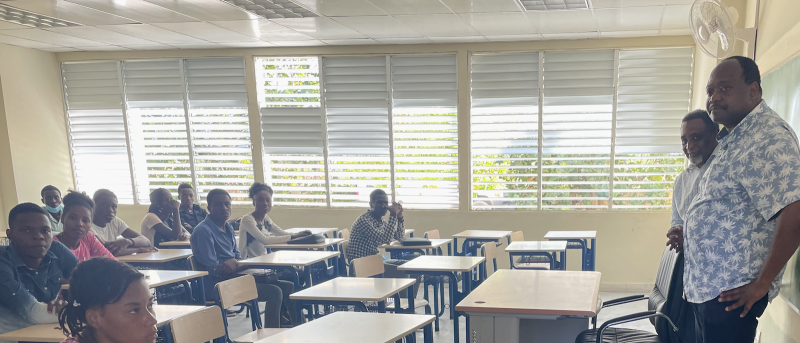 Haiti Radiology Technology School Enters its Second Year
Ernst Garçon, MD, Gives Back to the State University That Trained Him
Students at Haiti's first radiology technology school, located in the northern Haiti city of Cap-Haïtien, began their second year of studies in February, 2023, following a several-month hiatus due to political unrest in the country. The school provides free medical education to 20 of Haiti's top students each year through a four-year radiology technology program affiliated with the State University of Haiti.
"The school was briefly closed in Haiti, but here in the United States we have been working very hard," says Ernst Garçon, MD, associate professor of radiology at Columbia University Irving Medical Center and a co-founder of the school. Garçon developed the program with Nadia Biassou, MD, PhD, senior clinician neuroradiologist at the National Institutes of Health and clinical professor of radiology at Georgetown University School of Medicine and George Washington University School of Medicine. Working in partnership with Haiti's largest public university, the program accepted its first group of students in 2022.
A Small Program With Far-Reaching Impacts
"The idea is to offer an opportunity for talented young students to help them out of poverty," explains Garçon, a graduate of the State University of Haiti medical school. Garçon emigrated to the United States in 1995 and is currently an attending neuroradiologist at NewYork-Presbyterian-Columbia University.
He and Biassou also envision a broad impact on the country's underresourced healthcare system. In return for a free education, students are required to serve for one year after graduation, either as technical staff in a government-owned healthcare facility or teaching didactic imaging courses in the training program.
More technologists on the ground, says Garçon, has the potential to increase access to critical services such as breast cancer screening, especially in rural areas where the lack of medical personnel or working equipment often means that patients can't get accurate diagnoses and proper treatment.
A Comprehensive Curriculum
Garçon and Biassou worked with technologists at the American College of Radiology (ACR) and the American Society of Radiology Technologists (ASRT) to develop the four-year curriculum and then identified retired technologists to develop detailed syllabi for each course. "It has truly been an international affair that took a village to put together," says Garçon.
Students take six months of basic science classes with the medical students, along with intensive English, before being introduced to diagnostic imaging technology. All students become proficient in producing high quality radiography (including fluoroscopy and mammography), CT, and ultrasound. A few will be directed toward careers in biomedical engineering, medical physics, or informatics.
Garçon and Biassou emphasize the importance of the engineering track. "Every hospital in Haiti has a room filled with equipment that doesn't work," says Garçon. "Sometimes the problem is very simple, but it requires people with biomedical engineering training to trouble shoot problems, repair the damage, or conduct quality control assessments."
Garçon has travelled to Haiti twice this year to meet the school's first class and speak to them about the importance of diagnostic imaging. "I let them know that as a radiologist, I'm dependent on the technologist to do my job," he says. "If I'm looking at a bad X-ray, I can't make a diagnosis."
A Haitian Physician's Legacy
The radiology technology school is the culmination of nine years of efforts by Garçon and Biassou to address critical needs through medical education, in a country where the poverty rate is estimated at 60 percent. Financial support for the program is partially provided by the Biassou Foundation, a fund dedicated to supporting medical education in Haiti founded by Biassou's family in memory of her father, Wesner Biassou, a Haitian American anesthesiologist.
"The drive really was my father," says Nadia Biassou.
Wesner Biassou, MD, grew up in a poor family in the Haitian countryside, where the spoken language was Creole. He began his education in French at age seven, in Haiti's public education system and quickly mastered the new language. He rose to the top of his class and remained there from elementary school through medical school at the State University of Haiti.
"Public school is still one of the few places where it doesn't matter if you have means or don't have means," says Nadia Biassou, emphasizing that despite hurdles, she and Garçon remained committed to working with Haiti's public education system. "If you have a mind, and you're disciplined and willing to work hard, you can change your circumstances."
Wesner Biassou emigrated first to Canada and then to the United States, where he taught physics applied to anesthesiology at Beth Israel Medical Center and often studied with his residents to help some pass the speciality's national board examination. "My father was the consummate teacher at heart," says Nadia Biassou. He died in 2007 after dedicating much of his career to medical student and resident education.
The State University of Haiti accepts and provides tuition-free medical school to approximately 100 students based entirely on an entrance exam. High scorers who don't make the cutoff for medical school are offered positions at related programs. The new radiology technology school expands the number of students accepted for free medical education and training from the highly competitive exam.
"These students are top scorers on the medical entrance exam," says Garcon. "If they want to go on to become physicians in the future, they will have all the basic requirements."
References
More Information
Donations to the Biassou Foundation are directed entirely to the School of Radiology Technology at the State University of Haiti.