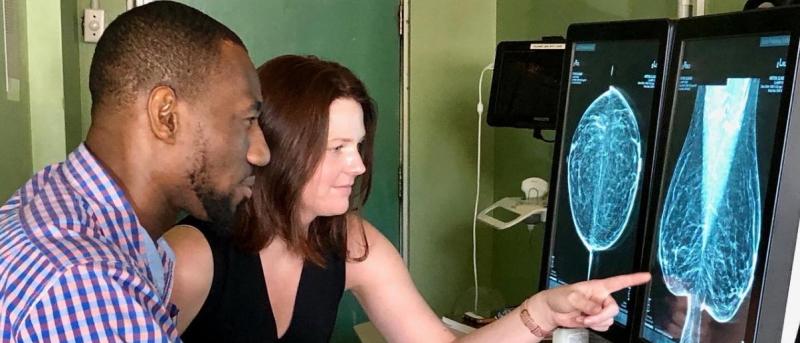 Global Health: Providing Support for a New Radiology Residency in Guyana
At Georgetown Public Hospital Corporation in Georgetown, Guyana, radiology residents face a long list of challenges as they complete their training. They have only two faculty members, one of whom rotates each year. They have no ultrasound technologists, leaving residents and faculty to train and take on that job as well. They have a well-functioning CT scanner but lack enough syringes to do contrast studies.
In spite of these challenges, the tiny department manages to provide radiology services to patients who travel from all over the countryside, performing between 150 and 170 X-rays each day, along with fluoroscopy studies, ultrasound, CT, and, more recently, mammograms. 
"I was really impressed that they do so much with so little," said Allison Borowski, MD, assistant professor of radiology Columbia University Irving Medical Center. 
Dr. Borowski, fourth-year radiology resident Valeria Gioioso, MD, and first-year radiology resident Andrew Sideris, MD, recently returned from Guyana on what Dr. Borowski describes as a "fact-finding mission", to learn more about how Columbia Radiology can partner with Georgetown Public Hospital to provide some of the education support its residents need.
The trip was organized through RAD-AID International, a non-profit organization which provides radiology education and support to under-resourced communities around the world. 
Drs. Borowski, Gioioso, and Sideris provided hours of training and support for the Guyanese residents during their week-long trip. They conducted daily lectures, gave more than six hours of case studies, and provided hands-on training in mammography and other modalities.
"The residents were incredibly dedicated and motivated," Dr. Borowski said. "They were really excited to have us come."
The fledgling residency at Georgetown Public Hospital is in its second year, with 11 residents currently completing a three-year program. They rely heavily on volunteers to get the training they need.
Dr. Borowski, a breast imaging specialist, shared her expertise with residents reading mammograms, which have only recently been offered to patients at the hospital. "For most of the patients we saw, it was their first mammogram," Dr. Borowski explained.
Currently, most mammograms performed at the hospital are read remotely in the United States.  With proper training from volunteers like Dr. Borowski, the residents — some of whom express interest in joining the hospital's faculty post-residency — would potentially be able to provide breast imaging services at the hospital. "We worked on explaining findings to patients and explaining breast pain, or what a cyst is. I emphasized the need to educate the patients because they are scared."
Dr. Gioioso worked one-on-one with residents in the main reading room, providing training in how to systematically review and interpret images and create dictations. She also helped perform ultrasounds. Dr. Sideris primarily worked with residents in the fluoroscopy room, where one fluoro machine was working and a second, non-working machine was harvested for parts.
"It certainly has made me more appreciative of the resources that we have available here," said Dr. Gioioso.
The Guyana trip builds on years of global work by Columbia Radiology faculty and residents. Past and ongoing projects include education and support in Liberia, Haiti, India, and Albania. 
"I've already told them we'll be back," said Dr. Borowski. "They have all these volunteers and it's helpful when they're there, but when they leave the residents are orphaned again. I think some consistency would be good for them."
More than half the world lacks radiology, which impacts the diagnosis and treatment of diseases such as cancer, heart disease, trauma, infections, and much more.