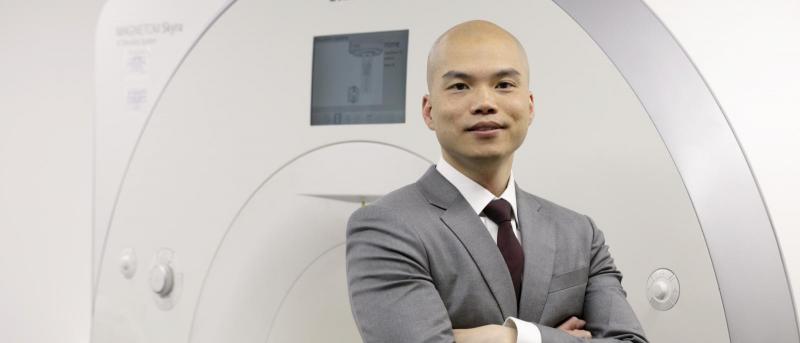 Dr. Tony Wong Receives 2019 RSNA Research Scholar Grant
Tony Wong, MD, assistant professor of radiology and chief of the Division of Musculoskeletal Radiology, was awarded a 2019 Research Scholar Grant by the Radiological Society of North America (RSNA) Research and Education Foundation. The grant supports junior faculty members as they become independent investigators.
"We are honored that the RSNA has selected Dr. Wong for this prestigious research award," said Lawrence Schwartz, MD, chair of the Department of Radiology and James Picker Professor of Radiology. "Tony is an outstanding clinician and translational researcher and this project is highly relevant both clinically and to his research."
Dr. Wong will receive $75,000 per year for two years, for research and development of a new, radiation-free imaging approach that enables personalized treatment of femoroacetabular impingement (FAI). FAI is a condition in which bony overgrowth develops along one or both of the bones that form the hip joint. This can result in symptomatic cartilage damage and labral tears. Patients who are treated with arthroscopic surgery require pre-operative imaging for surgical planning.
Dr. Wong will be investigating the use of ultrashort echo-time T2* (UTE T2*) as an imaging biomarker for early arthritis and using artificial intelligence (AI) along with a 3D dynamic hip model to improve surgical decision making.
"My goal is to improve patient outcomes by using novel imaging techniques as a form of precision medicine," Dr. Wong explained.
Dr. Wong joined the faculty in the Department of Radiology in 2013 after completing his diagnostic radiology residency at Columbia University Irving Medical Center/NewYork-Presbyterian Hospital and his musculoskeletal radiology fellowship at NYU's Hospital for Joint Diseases (now NYU Langone Orthopedic Hospital).
The RSNA grant will provide Dr. Wong with the necessary information to build an optimized MRI protocol for FAI imaging.  His research will serve as preliminary data for future federal funding, which will establish him as an independent investigator.