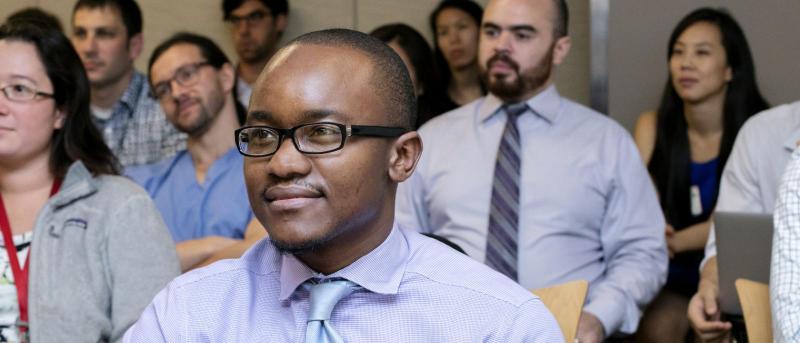 Dr. Simukayi Mutasa Receives Grant from Columbia Cancer Training Program for Resident-Investigators (CAPRI)
Third-year radiology resident Simi Mutasa, MD, has been selected by the Columbia Cancer Training Program for Resident-Investigators (CAPRI) to receive funding for research and development of an artificial intelligence (AI)-based risk model for personalized breast cancer assessment.
CAPRI is an NIH-funded program led by the Department of Medicine's Katherine Crew, MD and Gary Schwartz, MD, which aims to facilitate the development of translational cancer researchers at Columbia University Irving Medical Center (CUIMC). The program is administered by the Herbert Irving Comprehensive Cancer Center. Dr. Mutasa was selected from a pool of resident applications from 13 departments at CUIMC and will receive funding for one year of research during his final residency year.
"We are excited for Dr. Mutasa and grateful to CAPRI for funding this exciting research," says Dr. Richard Ha associate professor of radiology and director of research and education for the Division of Breast Imaging. "Dr. Mutasa is an exceptional radiology resident and has demonstrated great promise as a clinician-scientist, particularly in the field of deep learning as applied to imaging research." Dr. Ha will serve as Dr. Mutasa's mentor for the project.
Under the guidance of Dr. Ha, Dr. Mutasa has helped to develop an innovative suite of breast cancer risk models for assessment of mammograms, which accurately predict future breast cancer risk and have been shown to be modifiable with SERMs and Aromatase Inhibitors, proven chemopreventive agents in high-risk women.
Dr. Mutasa's ultimate goal is to develop an AI-based model to augment the standardized breast cancer screening guidelines with a more individualized breast cancer risk assessment. "We want to come up with ways to individually stratify people so that patients are getting screened according to their actual personalized risk," he says.  "And not just that, but we'd be able to use all the information from each visit to adjust their risk prediction."
Dr. Mutasa is chief resident in the Department of Radiology.  He has published more than 14 journal articles, presented over a dozen abstracts at national meetings and has won numerous awards, including The Roger A. Bauman, MD Award for best student paper, The SIIM 2018 Best Scientific Paper Award, American Roentgen Ray Society scholar grant, and Thayer Award for Excellence in Teaching.
CAPRI was established in 2018 as part of the Stimulating Access to Research in Residency (StARR) program, created by the NIH to recruit and retain outstanding, postdoctoral-level health professionals who have demonstrated potential and interest in pursuing careers as clinician-investigators. The grant supports institutions to provide mentorship and support for up to two years of research conducted by resident-investigators in structured programs with defined milestones.