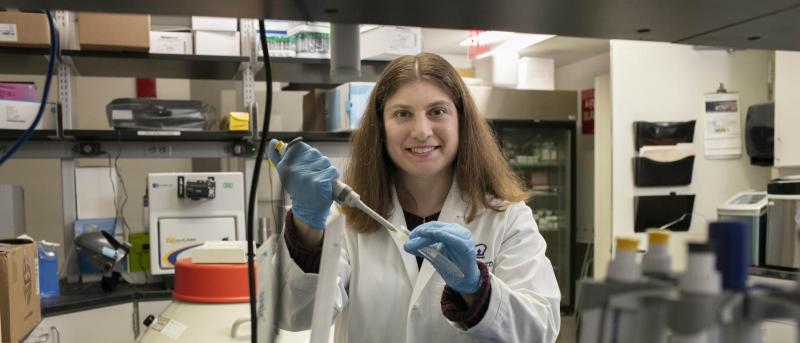 Dr. Kathleen Capaccione Receives 2019 RSNA Resident/Fellow Grant
Kathleen Capaccione, MD, PhD, PGY-III radiology resident, has been awarded the Research and Education Foundation Resident/Fellow Grant to study the use of novel radiopharmaceuticals to diagnose and treat melanoma. Dr. Capaccione's grant was among the top-ranked and she will receive $30,000 from the Radiological Society of North America (RSNA) for her targeted radiotherapy research. The award is given annually to young radiologists to gain experience and insight into scientific investigation.
Dr. Capaccione's research focuses on targeting a tumor-specific molecule which is highly expressed in melanoma. The aim of this research is to develop a diagnostic radiotracer for accurate diagnosis and staging of melanoma with a companion radiopharmaceutical that will directly target tumor cells with radiation. The work done through this grant will potentially lay the groundwork for translating these novel agents for clinical use. Together with currently available agents—including immunotherapy and chemotherapy—this targeted radiotherapy can provide an additional tool in the oncologists' armamentarium in the treatment of melanoma.
"Ever since I was a child, my dream has been to become a doctor to help cancer patients through medical research," Dr. Capaccione said. "Being able to accurately diagnose melanoma and treat with the appropriate amount of radiotherapy could help our patients live longer and have a better quality of life."
Melanoma is the most common cause of skin cancer death in the United States, with more than 96,000 cases diagnosed annually and more than 7,000 cancer deaths.
Dr. Capaccione will perform her research in the Columbia University PET Center Molecular Imaging and Therapy Lab, which has deep bench-to-bedside expertise in developing radiopharmaceuticals from concept through first-in-human clinical trials and is an international leader in using novel translational imaging to further drug development. She will be mentored by Akiva Mintz, MD, PhD, director of the Columbia University PET Center and vice chair of research in the Department of Radiology.
"We are extremely excited for Dr. Capaccione and grateful to the RSNA for funding this exciting research," Dr. Mintz said. "Having worked closely with Dr. Capaccione over the past year, I have observed firsthand her impressive talents and drive to perform translational research."
Dr. Capaccione is an American Board of Radiology Holman Research Pathway trainee.  The pathway is designed for exceptional trainees who have both strong clinical abilities and a background in research and allows her to complete her diagnostic radiology residency with a significant amount of time dedicated to her research.