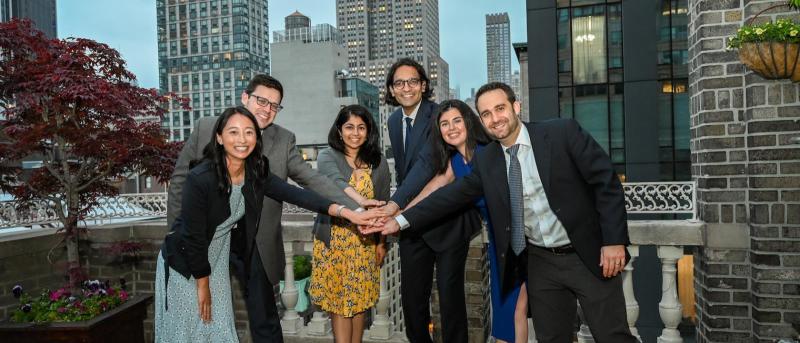 Congratulations to our Graduating Residents and Fellows!
The Department of Radiology honored this year's graduating class of five residents and 17 fellows in the first in-person ceremony since 2019. Graduating residents successfully completed the four-year diagnostic radiology residency and will all go on to fellowship training. Two additional residents who trained with the class of 2022 will complete an additional year of residency as part of the five-year Interventional Radiology Integrated Residency Program.
In opening remarks, department chair Lawrence H. Schwartz, MD, James Picker Professor of Radiology, congratulated the residents on their leadership and outstanding work during a challenging four years.
Graduating Residents
Elizabeth West, MD (chief resident)
Ryan Mitchell, MD (chief resident)
Giuseppe Carotenuto, MD
Ozair A. Rahman, MD
Jacienta Valiplackal, MD
Special Recognition to our DR/IR Residents
Neyra Azimov, MD
Nitasha Dhiman, MD
Fellows Certificate Presentations
Mark A. Dilulio, MD - Interventional Radiology
Andrew Kuei, MD - Interventional Radiology
Suraj N. Patel, MD - Interventional Radiology
Dwight Aberle, MD - Abdominal Imaging
Philip Lichtenstein, MD - Abdominal Imaging
Jeffrey Ortiz, MD - Abdominal Imaging
Yibo Chen, MD - Abdominal/Cardiothoracic Imaging
Yan Cao, MD - Abdominal/Cardiothoracic Imaging
Nimit Dholakia, MD - Neuroradiology
Peter Hsieh, MD - Neuroradiology
Sean Tamir, MD - Neuroradiology
Srinivasu Yemeni, MD - Neuroradiology
Kathleen M. Capaccione, MD, PhD - Nuclear Medicine/Radiology
Sakshi Khurana, MD - Nuclear Medicine/Radiology
Daniel Kadosh, MD - Pediatric Radiology
Priyanka Chaudhary, MD - Medical Physics
Prajakta Bhimalli, MD - Breast Imaging
Awards
Excellence in Medical Student Education: Neyra Azimov, MD and Jacienta Valiplackal, MD
Tech/Assistant of the Year: Marina Pilipenko
Nurse of the Year: Mary O'Neil
Teacher of the Year: Matthew Moy, MD
Best Lecture Award: Jay Leb, MD
Best Mentor Award: Sheryl Tulin-Silver, MD
Best Fellow Teacher: Philip Lichtenstein, MD
Best Resident Teacher: Giuseppe Carotenuto, MD