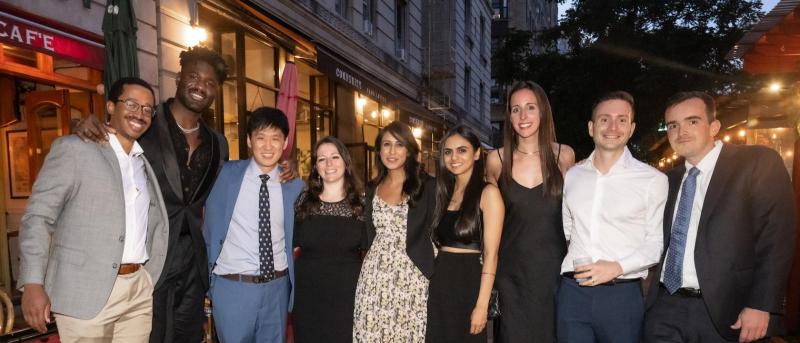 Congratulations to our 2023 Graduating Residents and Fellows!
The Department of Radiology honored this year's graduating class of radiology trainees on June 15, 2023, at Le Monde Restaurant in Manhattan. The graduating class was made up of eight diagnostic radiology residents, two interventional radiology integrated residents, two medical physics residents, and 11 fellows. Graduating diagnostic radiology residents successfully completed the four-year diagnostic radiology residency and will all go on to fellowship training. Two additional residents who trained with the class of 2022 made up the inaugural graduating class of the five-year Interventional Radiology Integrated Residency Program. In addition, chief resident Andrew Sideras, MD, received special recognition as he goes on to complete his fifth year of residency in the interventional radiology integrated program. 
In opening remarks, Interim Department Chair Diego Jaramillo, MD, professor of radiology, congratulated the residents on their leadership and outstanding work over the past four years.
Graduating Diagnostic Radiology Residents
Caitlin Henry, MD
Zenas Igbinoba, MD
Hyunjoong William Kim, MD
Gabrielle Loeb, MD
Hanisha Patel, MD
Shreya Patel, MD
Reginald Scott Widemon, MD
John Zech, MD
Graduating Interventional Radiology Integrated Residents
Neyra Azimov, MD
Nitasha Dhiman, MD
Chief Resident Certificate
Graduating Medical Physics Residents 
Rebecca DiTusa, MS 
Hao-Yun Hsu, MS
Fellows Certificate Presentations
Kyon Naser-Tavakolian, MD - Interventional Radiology
Joshua Katz, MD - Abdominal Imaging
Sakshi Khurana, MD - Abdominal Imaging
Ksenia Skorohodova, MD - Abdominal Imaging
Jacienta Paily Valiplackal, MD - Abdominal Imaging
Kathleen M. Capaccione, MD, PhD - Cardiothoracic Imaging
Sarah Kahn, MD - Neuroradiology
Nahill Matari, MD - Neuroradiology
Erli Mingomataj, MD - Neuroradiology
Gagandeep Singh, MD - Neuroradiology
Suzan Parhizgar, MD - Nuclear Medicine
Awards
Research Award: Laurent Dercle, MD, PhD
Diversity and Inclusion Award: Reginald Scott Widemon, MD
Excellence in Medical Student Education: Caitlin Henry, MD and Hanisha Patel, MD
Technologist of the Year: Grigol Asatiani
Nurse of the Year: Mary O'Neil
Teacher of the Year: Philip Lichtenstein, MD
Lecturer of the Year: Jay Leb, MD
Faculty Mentor of the Year: Tony Wong, MD
Fellow Teacher of the Year: Jacienta Paily Valiplackal, MD
Resident Teacher of the Year: John Zech, MD