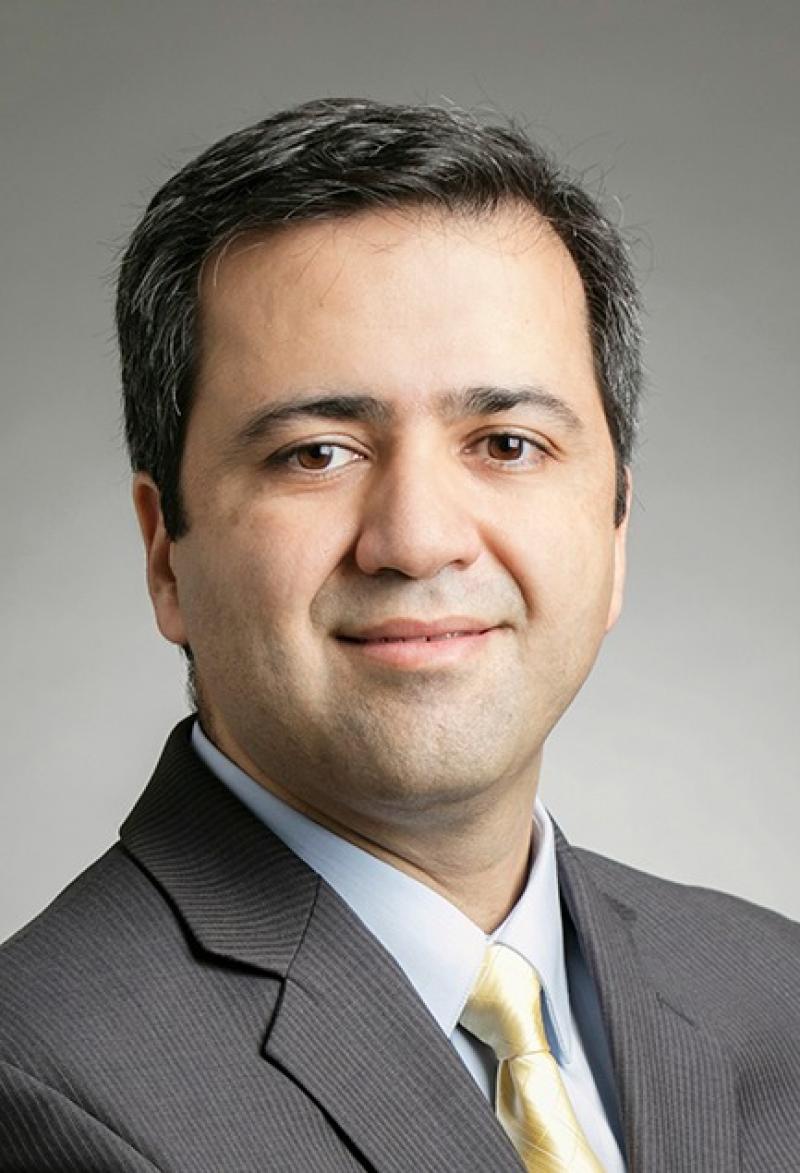 Overview
Areas of Expertise / Conditions Treated
Radiology, Abdominal Imaging, Interventional Radiology, Radiology
Academic Appointments
Assistant Professor of Radiology at CUMC
Dr. Firas Ahmed is an Assistant Professor of Radiology at Columbia University Medical Center, New York-Presbyterian Hospital. He completed his radiology residency at New York-Presbyterian Hospital/Columbia University. Dr. Ahmed has subspecialization in body imaging after completing his fellowship at Brigham and Women's Hospital, Harvard Medical School focusing on abdominal imaging and intervention. Dr. Ahmed is interested in gastrointestinal and genitourinary imaging in general and in body oncology in specific.
Before his radiology training, Dr. Ahmed attended Mailman School of Public Health at Columbia University as a Fulbright Scholar where he graduated with a Master's degree in Public Health, majoring in Epidemiology. He participated as a statistical analyst for the MESA-Lung study, a clinical study at Columbia University Medical Center focusing on chronic obstructive pulmonary disease and emphysema. Dr. Ahmed is active in conducting clinical research focusing on kidney cancer, radiomics, and pulmonary emphysema.
Hospital Affiliations
NewYork-Presbyterian/Columbia
Schedule an Appointment
New and Existing Patients:
Insurance Accepted
For billing questions, please call (866) 815-6994.
Aetna
EPO
HMO
Medicare Managed Care
NY Signature
NYP Employee Plan
POS
PPO
Signature Administrators
Student Health
Cigna
EPO
Great West
HMO
POS
PPO
Emblem/GHI
Medicare Managed Care
PPO
Emblem/HIP
ConnectiCare
EPO
Essential Plan
HMO
Medicaid Managed Care
Medicare Managed Care
POS
PPO
Select Care (Exchange)
Vytra
Empire Blue Cross Blue Shield
Blue Access (Exchange)
EPO
Gatekeeper (Exchange)
HMO
Medicare Managed Care
Pathway (Exchange)
POS
PPO
MVP Health Care
Child/Family Health Plus
Essential Plan
HMO
Medicaid Managed Care
Oxford Health Plans
Freedom
Liberty
Medicare Managed Care
UnitedHealthcare
Columbia University Employee Plan
Compass (Exchange)
HMO
Medicaid (Community Plan)
Medicare Managed Care
POS
PPO
*Please contact the provider's office directly to verify that your particular insurance is accepted.
Credentials & Experience
Education & Training
MD, 2001 Medicine & General Surgery, University of Baghdad
Internship: 2011 Albert Einstein / Montefiore Medical Center
Residency: 2015 Columbia Presbyterian Medical Center
Fellowship: 2016 Brigham & Women's Hosp/Harvard Med
Honors & Awards
2007 Anna C. Gelman Award for Excellence in Epidemiology - Mailman School of Public Health/ Columbia University, New York, NY
2005 Fulbright Scholarship - Funded the MPH program at Columbia University
Research
Grants
MULTI-ETHNIC STUDY OF ATHEROSCLEROSIS (MESA)- FIELD CENTER (Federal Gov)

Jan 15 1999 - Aug 14 2015
PULMONARY VASCULAR CHANGES IN EARLY CHRONIC OBSTRUCTIVE PULMONARY DISEASE (COPD) (Federal Gov)

Aug 28 2008 - Jul 31 2014
PROSPECTIVE STUDY OF ATHEROSCLEROSIS AND CLINICAL CARDIOVASCULAR DISEASE LONG TERM EXPOSURE TO AMBIENT... (Federal Gov)

Aug 1 2004 - Jul 31 2013
FISH OIL INTAKE, BIOMARKERS AND CHANGE IN LUNG FUNCTION (Federal Gov)

Apr 1 2004 - Mar 31 2011
ENDOTHELIAL DYSFUNCTION, BIOMARKERS AND LUNG FUNCTION (Federal Gov)

Aug 2 2004 - Apr 30 2010
Selected Publications
Noninvasive tests for the diagnostic evaluation of dyspnea among outpatients: the Multi-Ethnic Study of Atherosclerosis lung study. Oelsner EC, Lima JA, Kawut SM, Burkart KM, Enright PL, Ahmed FS, Barr RG. Am J Med. 2015 Feb;128(2):171-180.e5. doi: 10.1016/j.amjmed.2014.09.023. Epub 2014 Oct 15. PMID: 25447621
Variation in the percent of emphysema-like lung in a healthy, nonsmoking multiethnic sample. The MESA lung study. Hoffman EA, Ahmed FS, Baumhauer H, Budoff M, Carr JJ, Kronmal R, Reddy S, Barr RG. Ann Am Thorac Soc. 2014 Jul;11(6):898-907. doi: 10.1513/AnnalsATS.201310-364OC. PMID: 24983825
Emphysema predicts hospitalisation and incident airflow obstruction among older smokers: a prospective cohort study. McAllister DA, Ahmed FS, Austin JH, Henschke CI, Keller BM, Lemeshow A, Reeves AP, Mesia-Vela S, Pearson GD, Shiau MC, Schwartz JE, Yankelevitz DF, Barr RG. PLoS One. 2014 Apr 3;9(4):e93221. doi: 10.1371/journal.pone.0093221. eCollection 2014. PMID: 24699215
Plasma sphingomyelin and longitudinal change in percent emphysema on CT. The MESA lung study. Ahmed FS, Jiang XC, Schwartz JE, Hoffman EA, Yeboah J, Shea S, Burkart KM, Barr RG. Biomarkers. 2014 May;19(3):207-13. doi: 10.3109/1354750X.2014.896414. Epub 2014 Mar 21. PMID: 24649875
Pulmonary emphysema subtypes on computed tomography: the MESA COPD study. Smith BM, Austin JH, Newell JD Jr, D'Souza BM, Rozenshtein A, Hoffman EA, Ahmed F, Barr RG. Am J Med. 2014 Jan;127(1):94.e7-23. doi: 10.1016/j.amjmed.2013.09.020. Epub 2013 Oct 9. PMID: 24384106
APOM and high-density lipoprotein cholesterol are associated with lung function and percent emphysema. Burkart KM, Manichaikul A, Wilk JB, Ahmed FS, Burke GL, Enright P, Hansel NN, Haynes D, Heckbert SR, Hoffman EA, Kaufman JD, Kurai J, Loehr L, London SJ, Meng Y, O'Connor GT, Oelsner E, Petrini M, Pottinger TD, Powell CA, Redline S, Rotter JI, Smith LJ, Soler Artigas M, Tobin MD, Tsai MY, Watson K, White W, Young TR, Rich SS, Barr RG. Eur Respir J. 2014 Apr;43(4):1003-17. doi: 10.1183/09031936.00147612. Epub 2013 Jul 30. PMID: 23900982
The myth and reality of contrast-induced nephropathy. Ahmed FS, Newhouse JH. Applied Radiology. 2013 Dec; 42 (12): (16-18)
Asthma and lung structure on computed tomography: the Multi-Ethnic Study of Atherosclerosis Lung Study. Donohue KM, Hoffman EA, Baumhauer H, Guo J, Ahmed FS, Lovasi GS, Jacobs DR Jr, Enright P, Barr RG. J Allergy Clin Immunol. 2013 Feb;131(2):361-8.e1-11. doi: 10.1016/j.jaci.2012.11.036. PMID: 23374265
The association of systemic microvascular changes with lung function and lung density: a cross-sectional study. Harris B, Klein R, Jerosch-Herold M, Hoffman EA, Ahmed FS, Jacobs DR Jr, Klein BE, Wong TY, Lima JA, Cotch MF, Barr RG. PLoS One. 2012;7(12):e50224. doi: 10.1371/journal.pone.0050224. Epub 2012 Dec 20. PMID: 23284634
Subclinical atherosclerosis, airflow obstruction and emphysema: the MESA Lung Study. Barr RG, Ahmed FS, Carr JJ, Hoffman EA, Jiang R, Kawut SM, Watson K. Eur Respir J. 2012 Apr;39(4):846-54. doi: 10.1183/09031936.00165410. Epub 2011 Oct 27. PMID: 22034646
Percent emphysema, airflow obstruction, and impaired left ventricular filling. Barr RG, Bluemke DA, Ahmed FS, Carr JJ, Enright PL, Hoffman EA, Jiang R, Kawut SM, Kronmal RA, Lima JA, Shahar E, Smith LJ, Watson KE. N Engl J Med. 2010 Jan 21;362(3):217-27. doi: 10.1056/NEJMoa0808836. PMID: 20089972
Health risk behaviors and prostate specific antigen awareness among men in California. Ahmed FS, Borrell LN, Spencer BA. J Urol. 2008 Aug;180(2):658-62; discussion 662. doi: 10.1016/j.juro.2008.04.007. Epub 2008 Jun 12. PMID: 18554651